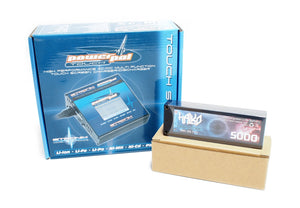 This set includes two extra Halko Lipo packs to give you extra drive time and high grade charger which charges your batteries safer and faster. With extra batteries you can take your Buchanan where ever you want and have much more drive time compared to single battery.
Charger included in this set is modern smart charger with internal power supply so you can charge batteries indoors and of course on the track from 12V DC power supply if needed. Charger has integrated cell balancer to keep cell voltages in balance. Touch screen offers simply and easy to use user interface.  Charging safely is important and that is why charger also has multiple protective features to keep charging safe. Charger offer 90W of charging power so you can charge your 7.4V lipos up to 10A current meaning that batteries are full in about half an hour.
Batteries are the same which is included with the Buchanan basic kit. Batteries have high discharge rate of 250A to offer all the punch you need.
To keep your batteries in mint condition longer the included charger has "storage" feature which charges the batteries in safe storage voltage. 
Includes:
Touch screen Charger
2 pcs Halko High Grade Lipo packs